Hawa Mahal, also known as the "Palace of Winds," stands as an architectural marvel in the heart of Jaipur, Rajasthan. This stunning palace is a testament to the rich history and craftsmanship of the region. With its unique facade, it's not just a building; it's a living piece of history that tells tales of a bygone era.
History
Built in 1799 by Maharaja Sawai Pratap Singh, the Hawa Mahal was designed by Lal Chand Usta, a prominent architect of that time. Its primary purpose was to allow the royal ladies to observe the bustling streets and celebrations without being seen, thanks to its intricate lattice windows.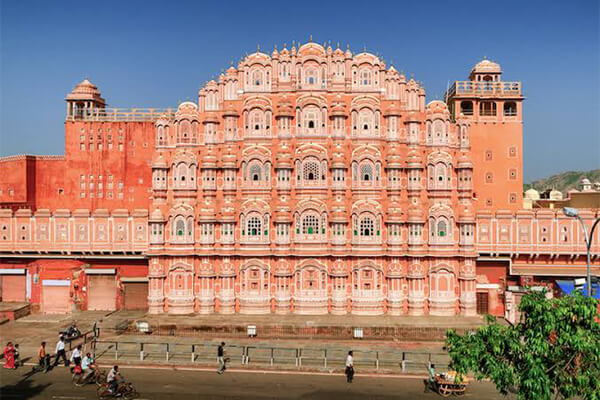 Architecture
The palace is a five-story structure, constructed with pink sandstone, which is a hallmark of Jaipur's architecture. The facade is adorned with 953 small windows, locally known as "Jharokhas." These Jharokhas not only provide a unique aesthetic but also serve as a natural air conditioner, allowing cool air to circulate through the palace during the scorching Rajasthan summers.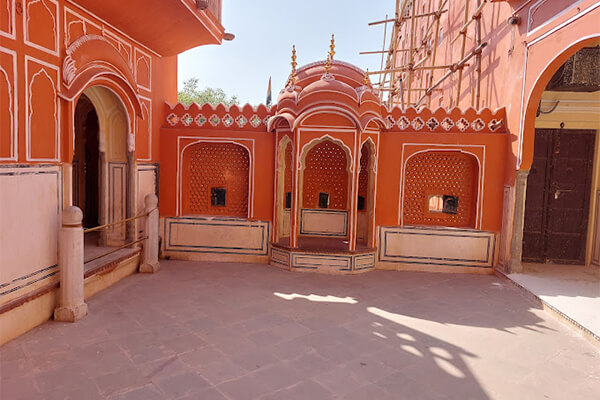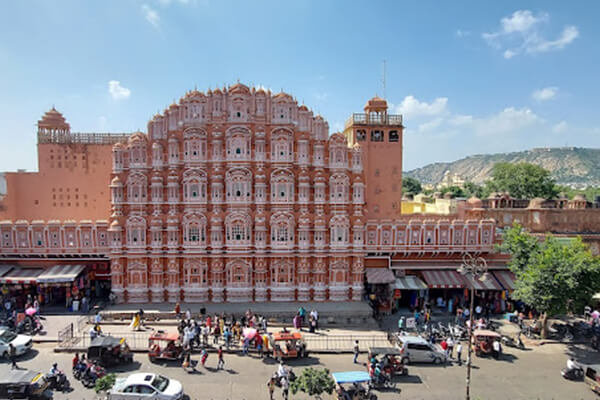 Design and Symbolism
The honeycomb-like structure of Hawa Mahal is symbolic of a beehive, signifying industry and activity. The palace also reflects the shape of Lord Krishna's crown, showcasing the deep-seated religious beliefs of the time.
Inside Hawa Mahal
While the exterior is captivating, the interior of the palace is equally fascinating. The chambers are adorned with vibrant paintings, reflecting the artistic prowess of the era. These paintings depict scenes from royal life, hunting expeditions, and various forms of traditional art.
The Five Floors
First Floor (Ground Floor) : This level houses a museum, offering a deeper insight into the history and culture of Jaipur. It's a treasure trove of artifacts, including miniature paintings, ancient sculptures, and royal memorabilia.
Second Floor : This floor opens up to a breathtaking view of the city. Visitors can witness the chaotic yet enchanting streets of Jaipur through the lattice windows.
Third Floor : A place of solitude and reflection, this level provides a more intimate view of the surroundings. The gentle breeze flowing through the Jharokhas adds to the serenity.
Fourth Floor : This floor hosts the grandest views. From here, one can see the majestic Amer Fort in the distance, standing tall amidst the rugged Aravalli hills.
Fifth Floor : The highest point of Hawa Mahal, this level offers an awe-inspiring panoramic view of Jaipur. It's a place where visitors can truly grasp the architectural genius of the structure.
Visiting Hawa Mahal
Timings : The palace is open from 9:00 AM to 5:00 PM every day.
Entry Fee : For Indians, the entry fee is INR 50, and for foreigners, it's INR 200.
Photography : Cameras are allowed, so don't forget to capture the mesmerizing views.